Charlotte Selver Bringing the Work to the United States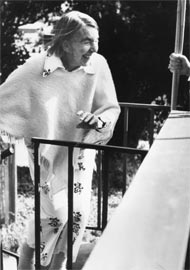 Charlotte Selver studied with Elsa Gindler in Germany, and the work transformed her life. She brought this practice to the United States in 1938, and shared it with thousands of students around the world for over 75 years. She died on August 22, 2003 at the age of 102 years old. As a catalyst in the Human Potential Movement, Charlotte drew leading visionaries to study and work with her, including Erich Fromm, Alan Watts, Paul Reps, Fritz Perls, Richard Baker, Shunryu Suzuki Roshi, Ruth Denison and Zoketsu Norman Fischer.
Charlotte often described meeting Erich Fromm, the psychologist and author, as meeting "my brother." They shared a deep understanding about life and had a profound influence on each other. In his book, the Art of Loving, (1956) he wrote about the experience of separateness as the source of anxiety in human beings. His thesis was that to transcend this sense of separateness, we have to learn to be alone and to find a broader connection to being alive that helps us find "at-oneness." He described love as an art, saying that to be a master of any art "One's whole person becomes an instrument in the practice of the art."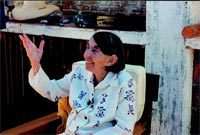 To do this, one must be concentrated in everything that one does. "To be concentrated means to live fully in the present, in the here and now, not thinking of the next thing to be done while I am doing something right now…" (p. 96). He spoke of the work of Elsa Gindler and Charlotte Selver as important tools to develop and live this concentration.
Erich Fromm recognized the connection of this work to eastern practices. He, along with Charlotte Selver, Richard DeMartinio and Daisetzu Suzuki presented at a seminal conference in Mexico in 1957 entitled "Zen Buddhism and Psychoanalysis". Through her connections at this conference, Charlotte began leading Sensory Awareness in Mexico.
When Alan Watts, a popular Zen teacher discovered Sensory Awareness, he described it as "The Living Zen". He and Charlotte began to lead workshops and seminars together. In a talk about the work of Charlotte Selver over radio station KPFA in San Francisco in 1961, Watts also called it "the art of Taoism, the art that is called in Chinese 'wu-wei,' or non-interference with the Tao. That is to say, with the course of nature…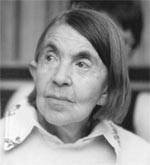 It seems very necessary for us to learn… to trust what Elsa Gindler and Charlotte Selver used to call one's own 'inner,' to be both intelligent and sensitive, to be, temporarily at least, silent before the subtle movements of nature, to study them better and work, with the grain of the world instead of against it."
These connections are almost taken for granted now: the relationship of mindfulness of the body, eastern practice, and psychology and health. Many, many practices traverse this path. Charlotte Selver was one of the original pioneers who opened these understandings and connections. In 1950 she introduced Sensory Awareness at the New School for Social Research in New York, and in 1963 at the Esalen Institute in California. These were the first courses at either of these influential institutions in "body-awareness" and "non-verbal experience." Over the past five decades somatic and eastern practices have become "mainstream" yet the need for this work is still critical in our society. As Hanna describes the focus of somatic work, he says "it points simultaneously toward the healing of mind, the healing of body, and the healing of society… the three are inseparable" (Hanna, 1979, p.8).