Children as our Teachers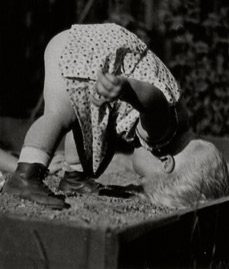 We are all born with natural vitality and an innate connection to our senses. Children remain free in this connection until experiences or people teach them to function differently. So much of the practice of Sensory Awareness is focused on regaining the natural capacity we were all born with. If we can raise children to follow their own true experience and sensations, we can prevent a great deal of suffering.
When we nurture children's confidence, resilience and responsiveness, we create a more caring and connected world. Children have been my teachers and inspiration since I was a young teenager. My own life path is dedicated to protecting and nurturing children, and the heart of a child that still lives inside of each of us, no matter what we have experienced or done.
One of my favorite songs is by Morgan Heritage and is called, the "Heart of a Child". You can listen to it here. (It is on youtube, so just skip through the Ad.)
I have worked as a teacher of young children; I have trained, taught and coached teachers all over the United States; and I have worked with families to support them in responding to and advocating for their children. I still coach and lead trainings for early childhood teachers. In order to be present for children we have to know how to be present with ourselves, so we don't impose our own hindrances, confusion and constriction onto the children.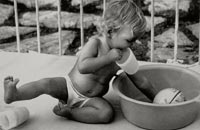 There were pioneers in the lineage of Sensory Awareness who were dedicated to working with children and I honor and appreciate the path they have opened for all of us.
This photo of a child from the Pickler Institute demonstrates the vitality and aliveness with which we are all born. Emmi Pikler and Elfriede Hengstenberg are two pioneers in this work with children and their work continues to be a guide for many educators today. For more information about Emmi Pikler and the work that continues, visit www.pikler.org.
Mary Alice Roche describes some of their experiences in her article, "Sensory Awareness Conscious Relationship", Somatics Magazine-Journal Fall 2000:
Elfriede Hengstenberg was interested in how to work with the child as a whole and when she began studying with Elsa Gindler and Heinrich Jacoby she learned how to see the children more perceptively, "tracing the inner, natural law of undisturbed development… the way which is prescribed by the Nature of the child" (Hengstenberg, 1985, p.10).

I saw those with unhindered, natural unfolding, and those whose development had been hindered by family, school, society. I discovered how, through clearly seeing the former in all their movements and ways of being in the world, I could find wherein the latter might unfold, fulfilling their potential. I found that adults, even with their more deeply seated hindrances, could change through the same kind of work, and that, particularly in the cases of parents and teachers, such change in them was a necessity for the healthy unfolding of the children in their care (Hengstenberg, 1985, p.10).

Heinrich Jacoby (cf. Roche, 1981) felt that "the liberation of the child must begin with the liberation of the adults; that this liberation is firstly a problem of educating the educators, and only secondly a problem of educating the children… Teachers often lead children toward the same inhibitions, disorders, and discouragements as those with which they, the teachers, are already afflicted (Jacoby, cf. Roche, 1981, p.24).

Emmi Pikler (1994) started at the very beginning of life, with newborns and infants. She writes of the joy and satisfaction that can happen – for both children and caretakers – when children's development is allowed to happen naturally, when they are not hindered by the adult's preconceptions about "child-rearing" – and the adult's unfulfilled emotional needs. In her book, Peaceful Babies, Contented Mothers, Pikler writes in detail about the physical, mental and emotional development of infants, their relationship to their caretakers, and to the world around them. She explains her philosophy of loving care and independent play, and illustrates just what those words mean, the actual attitude and behavior for which they stand within this life situation. In conclusion, Pikler (1994) says, "What is essential is to observe! Get to know your child. If you really… feel what she needs, then you will respond in the right way" (Pikler, 1994, p. 24).
This is true about all human beings and about ourselves. If we can really feel what is needed, we can respond with kindness and clarity. Through observing children, we can rediscover more of our own innate responsiveness and aliveness.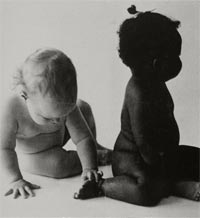 I love this photo that I saw on the cover of an old Life or Look magazine from the 1950's or 60's. I am so sorry that I do not know the name of the photographer and hope that it would be o.k. with him or her for me to use it here. To me this photo represents the beauty of connection and curiosity. Both children are completely free in their own bodies, free in their connection with the support that is under them, and free in their exploration of each other.
Too often as adults, and as a society, we impose our own biases, and social programming on children. Thus our children grow up either with unearned privilege or as targets of bias.
Much of my work in early childhood education has focused on equity and diversity issues. I was co-chair of two diversity networks for many years: the Bay Area Network for Diversity Training in Early Childhood Education (BANDTEC) and the Lesbian, Gay, Bisexual and Transgender (LGBT) Early Childhood Network. I co-authored the 438-page curriculum entitled: Making Room in the Circle: LGBT Families in Early Childhood Settings and developed and taught the first 3-unit course in the United States on working with LGBT families in early childhood settings. I also helped to edit and write another curriculum entitled Stronger Together: Family Support and Early Childhood Settings, that has activities and strategies for early childhood educators on partnering with all families and addressing issues of bias that effect young children and our society including racism, homophobia, immigrant status, dual language etc.