Lee was lucky to have the gift of a deep kinship and friendship with Charlotte. They brought out the best in each other; recognizing both strengths and limitations with loving acceptance; meeting with ease, humor, and abiding trust. Lee is profoundly grateful for the opportunities she had to learn and grow with Charlotte as a mentor and as a friend….
Are You Doing Anything Extra?
Lee took her first workshop with Charlotte Selver in Mexico in 1970 at the age of 19 years old, and felt that she came home. The practice of Sensory Awareness was a surprise that penetrated her life and changed it. Her mother handed her a brochure in the fall of 1970 and said, "You should meet this woman. She can change your life." At which point, she turned away and walked out of the room. Lee was curious in spite of herself and went to Mexico in December of 1970 to meet the woman who was going to change her life. She had no idea what the workshop was about or what was going to happen. She describes:
"My first surprising experience came one afternoon, outside of the class. I was sitting on a fence watching the ocean. All of a sudden I felt breathing moving in my armpits. It was startling to experience the simple and free movement of breath- to be touched by breath and to realize that I was "natural"…that I didn't have to DO anything. Simply by being alive, I was already a part of nature.

Days later in class, Charlotte asked everyone to hold the foot of a partner. As a 19 year old, new to this work, the idea of holding the foot of some stranger was distinctly unappealing and seemed very strange. However, looking around I saw everyone else finding partners and beginning to work. So, I thought to myself: "All right, here I am, I might as well do it. But if I am going to do this, I am going to do a really good job." And in my mind I began talking to my partner with refrains that were very familiar to me: "Don't worry. I am here. I've got your foot. I am going to do a really good job. I really have your foot…etc. etc." My conversation was ongoing, until Charlotte quietly asked, "Are you doing anything extra?" At which point I paused in my conversation and felt what was happening. I was surprised to discover that my shoulder was almost touching my ear. It was lifted up and straining. As I felt it, the straining let go. Then I felt extra effort all the way down through my arm which little by little released as I noticed it, until I came to my hand and discovered how hard I was squeezing my poor partner's foot. While I had been so consumed with "doing a good job," I was not in any real connection with my partner… as I gave up this extra effort, all of a sudden, I felt the person I was with. I felt pulsations in her foot. I felt the temperature of her foot. I felt the alive human being that I was actually touching and meeting. And each moment brought a new surprise.
This question of "Are you doing anything extra?" has been a koan and ongoing theme for me for the last 44 years. I still constantly find myself doing something extra. Now, I am more familiar with the difference between doing something extra and allowing an experience… changes can happen more quickly when I notice my extra effort. I rely on the directness and immediacy of my sensations. My mother did give me a gift that changed my life. And it is a gift that I am committed to sharing with others."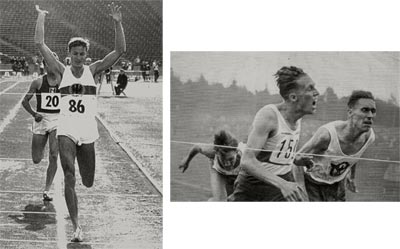 Charlotte, and her second husband Charles Brooks, used to present a slide show during classes to help people see and understand some essential components of this practice. The two images of these runners were part of their slide show. Many activities in our lives demand a lot of energy and are quite strenuous. The question is whether we can be in touch with what we are doing and free for it… or whether we become constricted by our own aggressive energy and extra effort. The image of the straining runners lived with me for a long time as a reminder of the impact of doing something extra. It is still an important reminder for me.