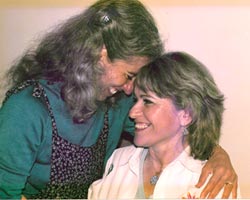 Tony was sky diving champion of Mexico. She loved sky diving so much that she used to disguise herself as a man in a soldier's uniform to go up with her husband who was teaching sky diving to soldiers. After she was "outed" by one of the soldiers, she talked the general into letting her go up, and he did, and she became an instructor for the military.
About 25 years ago, her parachute collapsed while she was performing for the president of Mexico. She crashed and was in bed, in constant pain with no movement for 3 years. She is quadriplegic and yet she has regained movement that doctors said was impossible, and she is one of the most fluid and free people that I know.
Tony founded an organization, FHADI to provide support and opportunities for people with motor disabilities. It is a remarkable place, and I have had the privilege of offering Sensory Awareness workshops there for people who are quadriplegic and paraplegic and for the staff who work with them.
Tony consistently teaches me about joy, perseverance, delight, courage and determination. She studied Sensory Awareness with Charlotte for many years. And each year that she comes to Barra de Navidad for a workshop she discovers more of her own capacity for moving and living. She is also a leader of Sensory Awareness and I am honored to work with her and to learn from her through her constant exploration and authenticity. She has written a wonderful book about her life called, Salto de Amor por la Vida (Leap of love for Life).