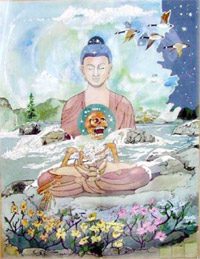 Michael Sawyer was a Buddhist priest who died in 2008. I met Michael when I came to Zen Center in 1978. Michael was an artist and several of his paintings live in my home, including this one. When I first saw this painting during a visit to Michael's home, I burst into tears. It landed so deeply in me.
Michael had Parkinson's disease, and over the years he lost the capacity to walk, and even to talk. Up until near the end of his life, he could still paint or draw. When he painted this painting, he was learning to live with the reality of Parkinson's disease and how it was changing his life. He spent many hours meditating, and gradually found profound freedom and joy in letting go. He said sometimes that he was happier than he had ever been.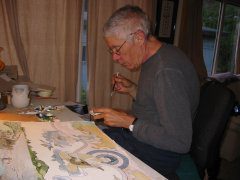 The power and the truth of staying present in the midst of pain and falling apart continue to speak to me in this painting. Even as Michael was losing so many capacities, he was discovering joy in new ways. I remember one day complaining to Michael about the pain in the world, and how frightening and overwhelming it felt to try to face the truth of war and so many huge issues. Michael turned towards me and asked if I contributed more to the world through my stress and concern, or through my humor and acceptance.