I love brooms.  So many different shapes and natural materials used to sweep away debris.  Often when I travel to another country, I come back with a broom, and if not a broom itself, with photos of a broom like these from Rinso-in, Suzuki Roshi's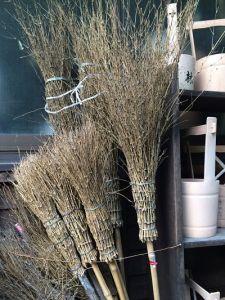 home temple. (Suzuki Roshi was the founder of the San Francisco Zen Center where I lived for 5.5 years.)
I am curious about how we clean the spaces where we live, including the debris in our own minds.
I was pondering this question as I began to write this blog post, when I went outside to recycle a bottle. I found compost scattered all over my deck by one of our neighborhood raccoons.  I was not very pleased. Cleaning up gooey compost was not on my long list of tasks to accomplish today.  I hesitated, looking at the mess and wondered:  "Now? Or later?"  I didn't think I would be much happier doing it later, so I went and got my hose and washed off as much as I could.  A lot of the compost stayed put.  So, I went inside and got a broom.  As I stood there sweeping rather forcefully and with some hostility towards the raccoon, I noticed what I was doing.  My belly was tight, my shoulders were constricted, I was holding my breath and I was pushing the broom with extra force. I was just trying to get it over with to get back to what I really wanted to do.
A few minutes before I had been so entranced with brooms, and now here I was sweeping while the debris in my own mind and body were building up even more.
When I noticed my tight belly, and the extra force I was using, I paused and let it go.  I became curious about how much pressure was actually needed to move the stuck compost from the deck, (much less than I had been using), and I became more effective in doing it.  I felt the sun on my skin and I gave up fighting against what was happening.  Cleaning up compost on my deck had not been on my to-do list, but it was now. I could tighten and constrict myself with resentment towards the raccoon.  But the raccoon was long gone and I was the one living with the resentment and tightness.
Our lives are filled with moments and situations we do not like or want. The question is how we meet them.